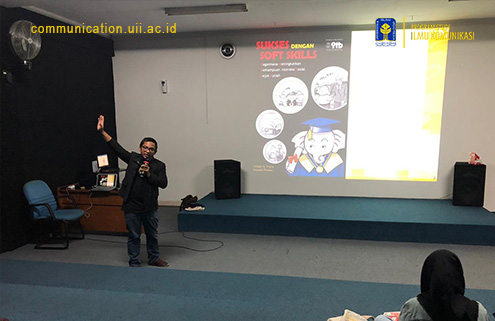 Selama dua hari berturut-turut, 30 sampai 31 Agustus 2019, Pengelola IP Komunikasi melakukan kegiatan Welcoming Day dan Academic Skill Study untuk seluruh mahasiswa IP komunikasi angkatan 2019. Acara yang berlangsung masing-masing di Blangkon Resto (hari pertama) dan Ruang Audio Visual (RAV) Lt. 3, Komunikasi UII, ini juga melibatkan para pengajar IP seperti Puji Rianto, Herman Felani, Holy Rafika, Ali Minanto, dan tentu saja Sekretaris Prodi IP Komunikasi, Ida Nuraini Dewi Kodrat Ningsih.
Ali Minanto memberi sambutan mewakili Ketua Program Studi Ilmu Komunikasi UII, di awal acara. Jogja adalah city of culture, katanya. Ia juga sekaligus city of art tentu dapat merangsang daya nalar kreatifitas mahasiswa Komunikasi IP UII. Ada atmosfer yang baik dan kreatif di Jogja.  "Selamat anda sudah bergabung bersama kami. Anda mendapat banyak peluang dan kesempatan saat berbagi di beberapa negara. Anda bisa bergabung dengan banyak aktivitas mahasiswa seperti Klik18, Klub film Kompor.Kom, 'Dispensi' untuk intelektual dan Red-Aksi  dan Galaxy untuk Jurnalisme dan Radio," katanya.
Ali Minanto menambahkan, Komunikasi UII juga membuka peminatan studi pada fokus Jurnalisme, media studies, dan PR. "Kita di Komunikasi, juga punya beberapa dosen yang filmnya diputar di beberapa negara, di jepang, di estonia, dan juga ada perjalanan lintas negara dengan tajuk P2A."
Acara juga berlangsung akrab setelah perwakilan mahasiswa IP komunikasi angkatan pertama membagikan ceritanya. Cerita itu diwakili oleh Ilyasa Alvin Abadi, mahasiswa IP angkatan 2018, "Waktu masuk saya belum punya teman, bahkan persahabatan, tapi akhirnya seiring berjalannya waktu, dan berproses bersama, saya bisa mendapatkannya sekarang," katanya dengan bahasa campuran Inggris dan arab.  "Kalau gabung di IP kalian juga bisa ikut merasakan pengalaman perjalanan di cambodia, thailand, Vietnam dan juga bisa mengerti dan mengasah kepekaan," kata Ilyasa. Kepekaan yang dimaksud adalah kepekaan menganalisa problem sosial. "I want to say welcome to our family, Ahlan wa sahlan," tutup Ilyasa dengan Bahasa Inggris dan Arab sekaligus.
Perkenalan berlanjut dengan model permainan. "Challenge game how to introduce with a unique way," kata Herman Felani, Dosen IP Komunikasi UII. Setiap kelompok, yang dibagi berdasar mahasiswa, dosen, staf, dan angkatan kuliah harus membuat sebuah perkenalan dengan cara seunik mungkin. Ada yang memperkenalkan diri dengan dua bahasa. Arab inggris, ada juga kelompok yang memerkenalkan diri dengan bersahut-sahutan menggunakan bahasa daerah. Menarik juga jika melihat kelompok dosen yang membuat tebak-tebakkan nama dengan sebuah isyarat dan petunjuk khusus yang berhubungan dengan diri dan makna nama mereka.
https://communication.uii.ac.id/wp-content/uploads/2019/09/Herman-Felani-Tanjung-Memulai-Manajemen-Diri.jpg
321
495
pampam
https://communication.uii.ac.id/wp-content/uploads/2018/10/Prodi-Ilmu-Komunikasi-UII-300x105.png
pampam
2019-09-03 07:22:23
2019-09-17 11:14:12
IP Komunikasi Sambut Mahasiswa Baru dengan Sharing Session dan Pengenalan Ketrampilan Akademik