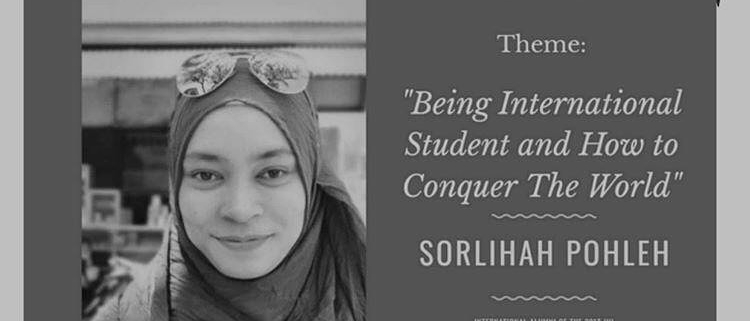 Reading Time:
3
minutes
continued posts from: Teatime #5: The Twists and Turns of Becoming Overseas Students (1)
According to her, the hardest thing when adapting abroad is in terms of friendship. When the first year was still constrained by language, she felt unable to talk much. During the lecture, Sorlihah admitted that she could only remain silent. However, the longer stay in Indonesia, she began to feel at home. It just because she already has a close friend. Including friends from Thailand who also studied at UII.
"It so happened that at that time there were friends who started inviting chat, so it wasn't just me who tried to adapt in the new environment. They also want to adapt to chatting. Eventually there will be many friends who want to help, especially during the third semester," she said.
Sorlihah also shared her experiences when adapting to food in Indonesia. She said that adapting to food was no less difficult, especially rice. Rice in Indonesia which tends to be softer is different from rice in Thailand.
The food in Thailand which is mostly salty and spicy is different from the food in Jogja which is sweet. Although initially having difficulty choosing food that suits her taste, Sorlihah began to find food in Indonesia that she liked. When asked by Annisa Putri Jiany, as the master of ceremonies, about Jogja's food that was first liked by Sorlihah, she admitted that the chicken soy sauce and seblak menu was her favorite food.
The thing in Indonesia that made her not impressed was the education of her Pesantren (boarding school for higher education). "The boarding school's girl here (Indonesia) are so cool. They can master many languages, especially English and Arabic," she said enthusiastically.
Sorlihah herself, aside from her studies, also lives in a dormitory provided by the campus: dormitory of Islamic Boarding School of UII. The boarding school lecture that Sorlehah attended was not much different from the routine of the pesantren in general. There was religious and language learning that was held outside of formal class. Although the routine made her schedule even more solid, Sorlihah continued to follow the applicable curriculum with a light heart until graduation.
The university has a rule for foreign students studying at UII, that they are required to live in the campus boarding school. However, as the number of foreign students entering UII, the regulation has gradually changed. "For Year 2016 and below, now it is no longer compulsory in Islamic boarding schools. Because many friends from Thailand who had difficulty following the boarding school curriculum. So, now they can freely choose to live outside the boarding school," she explained.
"What is the tips and tricks from Sorlihah for studying abroad?" asked Jiany, the host's nickname.
Sorlihah said the first most important thing was intention. Need to prepare the heart, and strengthen the intention. According to her, a strong intention will make yourself not easily give up and back down when there are problems.
Second is research, finding out about the culture and language of the country to be addressed. Like food in the destination country, anything that needs to be taken care of when leaving, and so on. "I also asked my siblings about Indonesia. How is Jogja? My siblings also told me about shake hands and language culture. If the language is not much different, so don't panic too much," Sorlihah said.
At least, Sorlihah conveyed a message to friends who wanted to study abroad, "Don't give up quickly, every difficulty there must be ease. God will not give trials beyond the ability of his servant."
—–
Writer: Fitriana Ramadhany (Student of Communication Major of UII, Internship at International Program of COmmunication Science Department UII)
Editor: A. Pambudi W
https://communication.uii.ac.id/wp-content/uploads/2020/07/Teatime-5-bersama-Sorlihah-Pohleh-Thailand-International-Communication-Science-Department-UII.jpg
750
750
pampam
https://communication.uii.ac.id/wp-content/uploads/2018/10/Prodi-Ilmu-Komunikasi-UII-300x105.png
pampam
2020-07-30 21:25:03
2020-08-04 07:11:55
Teatime #5: How to Adapt to Food, Friends, and Language Obstacles