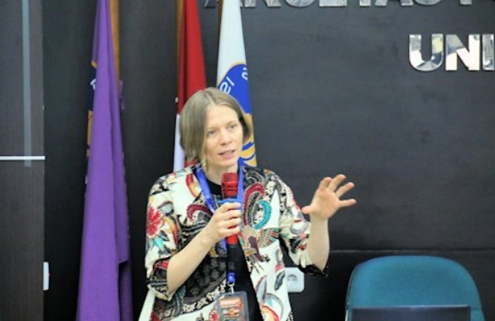 Reading Time:
3
minutes
IP Programs During the Pandemic: Keeping Up with Strict Health Protocols. The Covid-19 pandemic has affected many activities, especially teaching activities in schools and colleges of higher education. The Universitas Islam Indonesia (UII) is no exception, which has set new rules for activities during the pandemic period. One example is the UII International Program (IP). Activities here comply with the rules by complying with the Rector's Circular and government protocols during the pandemic.
IP UII has one of the excellent programs related to global mobility or international mobility. Through interviews with the Directorate of Partnerships / International Affairs Office (DK / KUI), Dian Utami, many programs of global mobility are  still possible to be implemented online. For example Summer Programs, Internships, Lecture Series, Web Seminars, Student Exchange, and Double Degree. Bridging Program in the form of the development of skills such as academic and learning skills training is also implemented in the form of online lectures. The form can be asynchronous or synchronous according to the Circular of the Rector of UII.
Some were postponed, some changes from offline to online
In the Communication Science Department, especially the International Program of Communication (IPC), activities related to global mobility such as the annual Passage to Asean (P2A) program and Student Exchange had to be postponed. Even though they had received offers to implement the P2A program virtually, the IPC still chose to postpone the P2A program. The delay is carried out indefinitely.
"We still hope that there will be an opportunity to get hands-on experience in the P2A program. By going directly abroad. So, currently we can only provide tell to students regarding the postponement of several programs," said Ida Nuraini Dewi KN, as the IPC secretary.
Various interesting programs with international insight still continue, said this specialist lecturer in journalism and media studies. IPC programs implemented during the pandemic, among others is International Webinar held in May and Career Webinar held in August. There are also Teatime's regular Talk Show and  Annual Workshop with the theme The Future of Globalization which was held last July.
The Annual Workshop invited Assoc. Prof. Dr. Huey Rong Chen from the Graduate School of Journalism, Chinese Culture University, Taiwan. Meanwhile, the Teatime Talk Show invited Zaki Habibi, a PhD candidate from Lund University, Sweden.
If usually the Annual Workshop is held offline and is open to IPC students and the public, then during the pandemic period the program must be transferred to online. Ida said, in general, several programs such as seminars would still be held even though they were online. Collaboration and research requiring face-to-face meetings and overseas trips where possible will be carried out online.
International Programs in Other Departments / Major
Similar conditions also occur in the International Relations Department. Activities related to global mobility cannot be carried out during the pandemic period. Karina Utami Dewi, as the Secretary of the International Program (IP) of International Relations (IR) Department confirmed this.
Even so, several programs that have been planned and will be implemented in the odd semester of 2020/2021. For example a visiting professor from NUS (National University of Singapore) who will teach in IP for 1 semester. Other programs include implementing IELTS simulations for all IP students and providing mentor academic facilities. Academic mentors are to assist IP students in implementing online learning.
During the pandemic period, the programs that can be implemented in the IP of IR Department vary. For example the Bridging Program and Inspiring Lecture with the Ministry of Foreign Affairs. There are also several guest lectures from experts in various subjects in IP. These programs are carried out as usual. The only difference is the form of implementation which is done online.
Even so, the implementation of the program ran smoothly and in general IP students were able to participate well. "Of course there are technical barriers such as connections. This is because most of the IP students return to their hometown. Not all of them have stable internet connections there," said Karina when interviewed via email.
UII Internationalization Globally 
Dian said that this is understandable during the pandemic period that many programs cannot be implemented as usual. Programs that cannot be implemented can be transferred to other programs. In essence, other activities have benefits and outcomes that support achieving UII Strategic Plan. Including increasing the internationalization of UII globally.
DK / KUI provides facilities in the form of services related to the initiation of new partners proposed by the Department or Faculty. Partners come from both industry, government, academia, and society. In addition, DK / KUI also continues to play a role in delivering information by publishing international activities within UII. Whether it's mobility activities for lecturers, students, and students.
———–
Author: Fitriana Ramadhany (Student of the Department of Communication Science UII – Internship for the International Program of Communication UII)
Editor: A. Pambudi W
https://communication.uii.ac.id/wp-content/uploads/2019/07/Mahasiswa-UII-Paparkan-Hasil-Penelitian-di-Thailand-1.jpg
330
495
pampam
https://communication.uii.ac.id/wp-content/uploads/2018/10/Prodi-Ilmu-Komunikasi-UII-300x105.png
pampam
2020-09-16 04:06:30
2020-09-21 05:56:27
IP Programs During the Pandemic: Keeping Up with Strict Health Protocols