MAGANG ONLINE di ASEAN Foundation Internship Programme (DL 21 Jan 2023)

Reading Time:
2
minutes
This information is made for you, the Communication Department Student of UII. Please take note of the internship information below. Read carefully and submit your administration requirements as mentioned below:
=================================
The ASEAN Foundation seeks passionate and capable interns to support the communications, programmes and operation function of the organisation.
To solidify and further explore the potentials of the ASEAN youths, the ASEAN Foundation provides an Internship Programme. The programme offers undergraduate and postgraduate students from the ten ASEAN member countries and the dialogue partners to engage in a two to six months long internship programme that provides a wide range of activities of learning and contributing to ASEAN community-building processes towards a dynamic, prosperous, and resilient region.
The interns are working under the Foundation key working units, such as Programme Unit, Communications Unit, and Operations Unit, to further unleash their skills and potential. The interns are tasked to work on a day-to-day basis with responsibilities surrounding programme and research proposal development, implementation, and monitoring. They might also be asked to develop contents for the Foundation's social media platforms for better outreach.
This opportunity is open until 21 January 2023. The internship is available at our three units of work: communications, operations and programme. Click the links below to learn more and apply:
Communications Intern
Operations Intern
Programme Intern
In the ASEAN Foundation Online Internship Programme, interns are suggested to work remotely from the comfort of their home or dormitory. However, the interns can also opt work from the Foundation's office at ASEAN Secretariat Heritage Build, Jakarta, Indonesia, which requires further discussion with the HR team of ASEAN Foundation.
=============================
"During my internship, I was equally given administrative, technical, and creative tasks. Working remotely is not so bad if you are assigned to challenging projects. My internship is no doubt a value-adding experience to my career!"
Ziarla Mae Malabanan
Student from Institut Barcelona d'Estudis Internacionals
=============================
"I indeed learned a lot during my internship with the ASEAN Foundation. My skill set was definitely enhanced through the tasks assigned and I thank the Programme Team for giving me that opportunity. Although I've only started to learn about the importance of being an aware ASEAN citizen in recent years, I am honoured to have been able to get involved towards building my own and others' ASEAN Identity."
Meerza Helmi Uzapuspa
Student from Universiti Brunei Darussalam
Further information: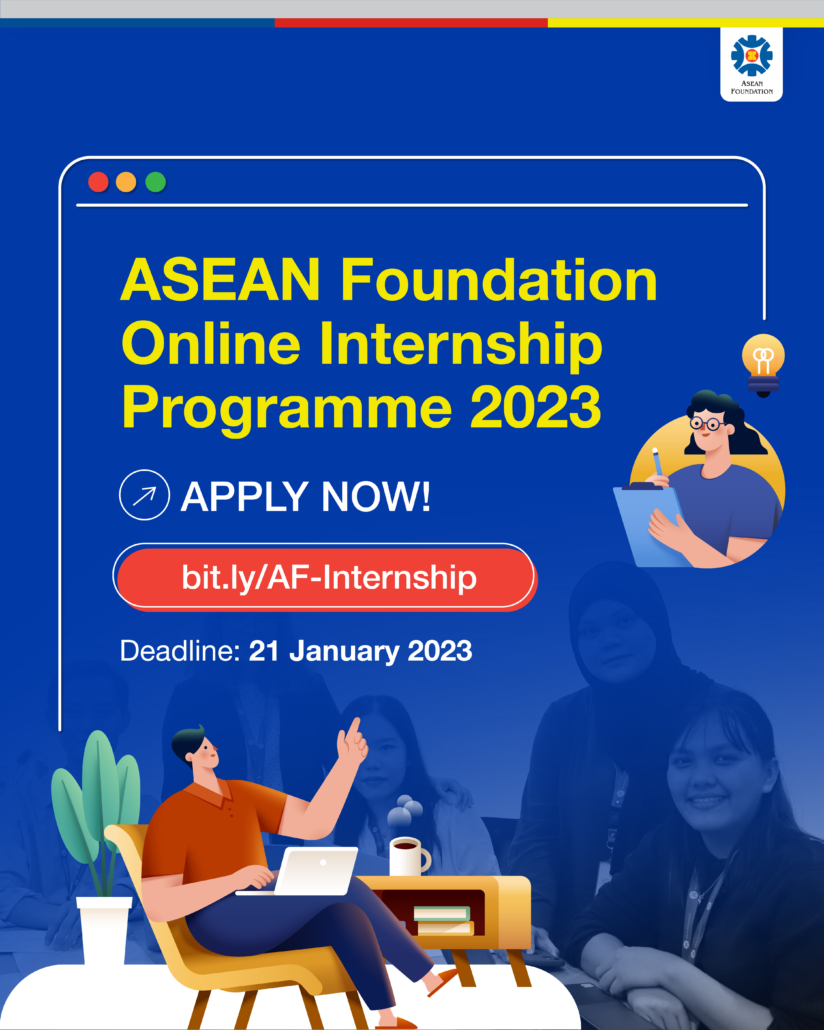 https://communication.uii.ac.id/wp-content/uploads/2023/01/Online_Internship_Programme_-_CFA-01_4-scaled.jpg
2560
2048
pampam
https://communication.uii.ac.id/wp-content/uploads/2018/10/Prodi-Ilmu-Komunikasi-UII-300x105.png
pampam
2023-01-16 12:05:19
2023-01-16 12:11:17
MAGANG ONLINE di ASEAN Foundation Internship Programme (DL 21 Jan 2023)