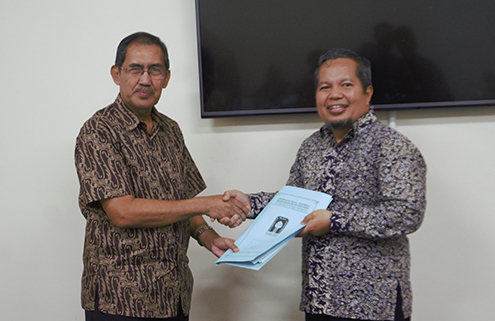 Reading Time:
< 1
minute
At least, after a lot of steps, Communication Department can maintain its Accreditation rank with A grade again. The news came after the assessors of the National Accreditation Board for Higher Education (BAN-PT) visited to check documents and evidence of accreditation on July, 10th, 2019. Exactly, six days later, July 16, 2019, a Decree from BAN-PT numbered 2387 / SK / BAN-PT/Akred/S/VII/2019 sent to this office.
The contents of the Decree (SK) wrote, "the decision of the national accreditation body of higher education regarding the accreditation status and ranking of the accredited Communication Department of UII at the undergraduate program of the Universitas Islam Indonesia (UII), Sleman Regency," he wrote. BAN PT's Executive Board Director, T. Basaruddin, through the letter then continued that he determined the Accreditation Status and Accredited Rank of the Communication Studies Program at the UII's Undergraduate Program was accredited with grade: A.
Recorded in the UII Communication Department forms for the last three years, the lecturers of this department (accumulatively) already have 269 publications. Whether it's international, national scientific publications, conference papers, journals, to popular articles in the mass media. These achievements can be exemplified, such as 5 documentary films with various international and national awards, 24 popular articles in mass media, 22 journal articles in international journals, 4 books and chapters with international publishing scale such as Springer and Routledge, and 60 scientific articles which was presented at an international conference. Also there were a lot of outstanding active students, there have been more than 90 awards that have been won by all the students over the past 5 years, which are on a regional, national and international scale.
Congratulations, and never stop empower, and work for others!
Photo by M. Iskandar T. G.
https://communication.uii.ac.id/wp-content/uploads/2019/08/serah-terima-berkas-penilaian-akreditasi.jpg
321
495
pampam
https://communication.uii.ac.id/wp-content/uploads/2018/10/Prodi-Ilmu-Komunikasi-UII-300x105.png
pampam
2019-07-18 12:33:35
2020-03-25 20:12:14
Communication Departement Achieved A Grade Again