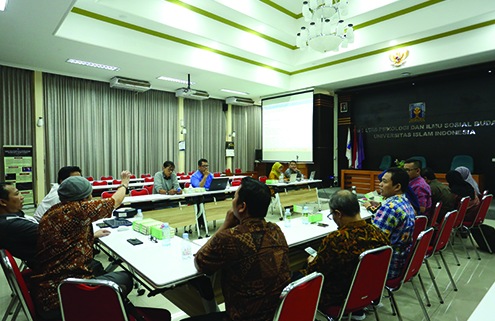 Reading Time:
2
minutes
On Wednesday, February 12th, 2020, in the Auditorium Room of the Faculty of Psychology and Social and Cultural Sciences (FPSB) of Universitas Islam Indonesia (UII), representatives from several islamic universities in Indonesia followed up their ideas before. The ideas are about the establishment of Association of Indonesian communication science lecturer. Previously, at the Asikopti's (Association of Communication Science Department on Islamic Universities at Indonesia) Congress at Universitas Islam Bandung (Unisba) in 2019, several lecturers from the Department of Communication Studies around Indonesia sparked the need for professional associations for communication science lecturers. At that time, the name Asdikom was born, a bahasa acronym from the Indonesian Association of Communication Science Lecturers.
Asdikom is an idea that arises due to some anomalies. So far, existing associations, such as Aspikom (Association of Indonesian Communication Science Department) and Asikopti, do not bind lecturers but universities and majors in communication sciences. The effects and benefits are different. Both of them are not included in the lecturer profession association. Initially, this association was followed by personal membership for all lecturers who were members of Asikopti. The future plan, according to Fajar Iqbal, Asdikom's secretary general, in the future Asdikom is not only limited to lecturers of Asikopti members.
Asdikom which is chaired by Ani Yuningsih, a doctor from Communication Studies at the Bandung Islamic University, has greater potential than Asikopti. "Because the membership is personal lecturer academics," said Fajar Iqbal who is also a lecturer at UIN Sunan Kalijaga Yogyakarta.
Bono Setyo, a former of Asikopti, and Fajar Iqbal, both of them are UIN Sunan Kalijaga UIN communication lecturers, and all participants agreed that the lecturer association would focus on the orientation of personal development of lecturers. Both in science and the capacity of individuals to achieve the best careers of their members. Indirectly, it will increase scientific studies and benefits in the community.
https://communication.uii.ac.id/wp-content/uploads/2020/02/rapat-asikopti-dengan-tuan-rumah-UII.jpg
321
495
pampam
https://communication.uii.ac.id/wp-content/uploads/2018/10/Prodi-Ilmu-Komunikasi-UII-300x105.png
pampam
2020-02-18 14:18:03
2020-03-25 20:05:24
Asdikom: The First Assosiation of Indonesian Communication Science Lecturer