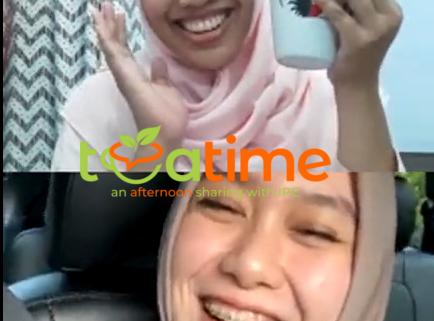 This is the first edition of Teatime IP Communication UII With Shadira Firdausi under the theme: Young Creative and talented by International Program of Communication Department Universitas Islam Indonesia. This Tea Time is a forum to encourage and inspire student and young people to enrich their capacity, knowledge, and experience in the middle of pandemic nowadays. The first guest star of the Tea Time Program is Shadira Firdausi who were a undergraduate student of Communication Science Department which is have a capability to speak at least mastering three different language. Shadira able to speak italian, english, bahasa. "Because if you know language either spanish, italian, of french you can easy speak and understand another foreign language cause of the similiar grammar among it," said Shadira on International Program (IP) Communication UII Instagram. But how come she could get the ability?
Shadira were get the student exchange program when she were at high school. She were studying at school abroad for a year. She also do the italian language course, french course, and spanish, "or you can download an app named duolingo, in this time of pandemic, you can no doing nothing. its free. you can also learn arabic there." Shadira said that how do you speak italian and indonesian is little bit same and is kind of easy to learn because of that similar type.
"I can teach you mom, if you want. haha, you were teach me and now I will teach you then those language," said Shadira laughing. Mrs Ida Nuraini Dewi, the Host of Live Instagram also laughing after that offer. "it's kind a nervous if I am trying to learn another language, but I will try it then, ha-ha-ha," Ida said then.
Shadira sang in a competition in italia, "I was the only indonesian there, I need  to deal with it then," Shadira share the stories when she begun the career on singing.
Answering Questions from Audiences
In the middle of live Instagram conversation, someone is asking a question on Instagram Live Chat,
"Which is more difficult? Spanish or italian language?"
"For me it is Spanish. It is a kind a hard to pronounce Spanish. In Italian language, its same how you write, how you say in indonesia," said Shadira.
Miss Ida and Shadira also share about their experience #stayathome #dirumahaja during pandemic. They tell us that, it seems everybody did, corona virus is very annoying. "I never like miss academic university activity so much," said Shadira. "its frustating you know. we can not meet and we can express the response. I wish its gonna end very soon. and then going to the canteen again like we do before pandemic."
Mrs Ida, as the host, then asking a key question to Shadira. "What do you think in this kind situation, as a young generation, how to maximize to achieve something, maybe you have go to the master abroad, we seems like cannot do anything during pandemic," Mrs Ida asking.
"Well actually for me, 4 month right now yeah, this is like really long time to me, and I get a lot of chance to know my self right now. I'm trying to learn myself deeply, learning to recheck my plan. Now i know what to do, do a cover again, doing anything, learning new language, its if you at home is make you more creative," Shadira answer.
Experience from Pandemic
What do you realize in this time of pandemic, Mrs Ida said.
Shadira said that now She can spending more time with her family. "Because my mom is mother of hard-worker, now we are trapped in one house, we experience the bonding, is kind of privilege, it is plus effect of corona viruses."
Another question from audience of Instagram live chat appears again: "what we have to do to overcome the laziness?"
Shadira answer, "Its depend  on what thing do you really like. If you like to cook, you can sell your cooking. If you  in to video editing you can upload a vlog or something in Youtube. I think you can figure anything on Youtube right now. What you have to do is, You just think what am I in to. Upload it in tiktok or Instagram. Do a virtual photo shoot for you that in to photography, or etc."
Mrs Ida also asking about Shadira's singing experience. Shadira now have a new step of experience. She was signing a contract with popular production house named Warner Music. How come it can happen then?
"I was winning the competition in high school without telling my family in the beginning of my singing activity," said Shadira. And it become so long after her parens know about it. Her parent did not know it until She tell them. "Now she really support me for any competition, or even until Warner they contract me and I sign the contract then."
"I'm working for my single. Its on progress. I need to figure anything, the instrument, the lyrics is on, and everything to make sure the song is quite good to heard."
Other question is going to Shadira again on live chat. "What is the first thing you do if the pandemic gone?"
"I want salim so much, hug my family, You know, we are waving to another since now. Because we cannot touch even salim, our tradition.  Even we can not Hug somebody. Its the first thing I'm going to do. And, also take a master degree maybe ya?"
The Key to get great Achievement
"But what is the key to have a lot of achievement like yours, then?"
"The key is, I'm not rushing my self. I do not need to rush something, if you want to something really out, you can not rush it. Just do it and the right thing will come. Maybe it will not really this year. But it will," said Shadira.
Shadira also tell us the story how everything begun. She said that in that day, when she woke up someday, she felt, "Why I have no great achievement since today?"
Then She opened "instagram explore" and she look for someone stories that appears on instagram. She found if he can do, why I can't do it too. Its happen on her senior high school, she said.
She said that she want be one of them who have a good achievement. "I can do what they do. so that how its started. its so hard for the first time always," shared Shadira.
In the end of conversation, Shadira give a wise and good advice to every young people out there.
"If you have a lack talent or lack achievement, something you have to do is just do it. We should break and face it. If they always said you are not good enough, just break it! Because you are the one who know who you are. You have to try to proof it. We just try keep our best so people not underestimate us."
The last, but not least, Mrs Ida want to close the Teatime Conversation with a song sang by Shadira. "Can we hear a little song a bit? for treat our longing during this pandemic? Shadira said yes for that. The conversation then closed by shadira's singing cover on "Before You Go" by Lewis Capaldi.
You Can Watch it Again by clicking IP Communication Instagram Below
View this post on Instagram
https://communication.uii.ac.id/wp-content/uploads/2020/06/tea-time.png
700
434
pampam
https://communication.uii.ac.id/wp-content/uploads/2018/10/Prodi-Ilmu-Komunikasi-UII-300x105.png
pampam
2020-06-29 05:23:27
2020-06-30 06:41:46
Teatime IP Communication UII With Shadira Firdausi: Young, Creative, and Talented